Rex & Lee Henry
Breeders of Registered Lusitano Horses
(Criadores de Puro Sangue Lusitano)
Portugal
Registered Lusitanos bred for performance.
Stud farm founded in 1977 with brood mares from the best family lines: Andrade/Veiga and Zapatero origins. Later our
colt Sultao (Eneias x Ojanera), sired two of our best stallions - Xer & Xiwara.
At present, the herd enjoys the freedom of the wide open space at the foothills of the "Serra Estrelas" mountains, the highest in Portugal. Our objective is to produce quality Lusitanos for performance & breeding through selection and use of primarily stallions of our breeding.
Our herd consist of two morphological types, one larger and more powerful with more Veiga blood with the "shield" brand,
the other marked with the "gazela" brand are finer and with more Zapatero ancestry. Their offspring have been successful in classical and competitive dressage, bullfighting and for breeding.
Xiwara, one of our breeding stallions has been Champion in National competitive dressage in 1986 & 1991, middle level, & jumped without faults at his first National Show Jumping event. We chose not to pursue his promising career in jumping but use him for breeding & classical dressage. At present, Xiwara is 18 years old & continues to perform in artistic exhibitions - even during the breeding season! In addition he is a wonderful school horse.
Enjoy the best of two worlds
Lusitanos for artistic or competitive dressage

| | |
| --- | --- |
| Like father ........Xiwara | Like son ........ Jerezano |
The Farm (the farm is for sale):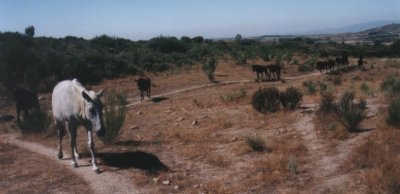 The young colts have there own area and the mare and fillies theirs, on the farm near the small village Aldeia de João Pires, near Penamacor.

The brood mares are Alteza (white) and her daughter Hazarra (black) they are both approved for breeding and registered in the APSL - Associacäo Portuguesa de Criadores do Cavalo Puro Sangue Lusitano studbook registry. Impala, Palo's dam is also registered in APSL (she's Nilo's grand-daughter).
The mare Alteza is Hazarra's dam. The mare Hazzara, daughter of Alteza is black, she is the dam of 2 y.o. Que-Zara and Pazzara(was approved for breeding with 70 p. and is SOLD), 3 y.o. (tall) who will be going to Algarve.
Oura (Edo & Condessa), Ossa (Xiwara & Giralda). Rex plans to train Oura for western riding/roping. Rex often rides his mares to better evaluate their functionality. Ossa has inherited her sire/dam's super trot and will be bred this year.
Bemposta, a big Casal Branco mare was purchased by the Henry's but remained at her bithplace, on the fertile pastures of the Ribatejo, near Almeirim. This mare has produced some fine offsprings: Marbella by Nilo, Nomade, Omar, Qano, Perla (is going to be very tall and with good conformation, she is going to be started in training soon) all by Edo (he is for sale by his new owner Sally Jones - England).
Last year, both Bemposta and Marbella had lovely fillies by Xiwara.
O'Zarro was shown in Golegã in november 1998 & is currently in training at the Morgado Lusitano Training Center, where his trainers think he is one of the Henry's best! (O'Zarro is for sale).
Nador, full brother of the winning dressage stallion Jerezano, continues to improve in his schooling, at Morgado Lusitano Training Center. (Nador is now sold for breeding Anglo-Lusos for jumping).
Palo (Edo & Impala) bay stallion has amazing agility & gaits. Both he & O'Zarro were brought in for initial schooling by the Henry's.
In the future they hope to produced more black foals, with the dam Hazarra and the future sire Leon. Sadly Leon past away in 2004. They still use Xiwar and maybe in the future the stallion Tarqui.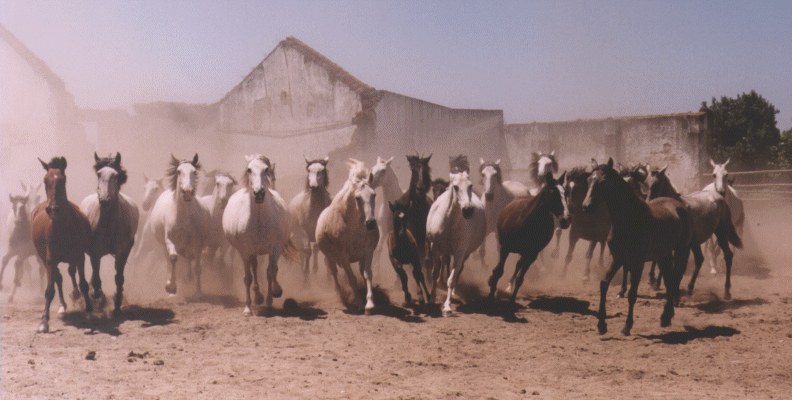 On the left: bay & Grey fillies by Edo and in center: Bemposta with filly by Xiwara.
---
Your contact ind Denmark

Eva Ørndrup
Stensbyvej 3
DK - 2740 Skovlunde - Danmark
Sms: +45 60 216 266
E-mail:
Homepage: www.lusitano.dk
---