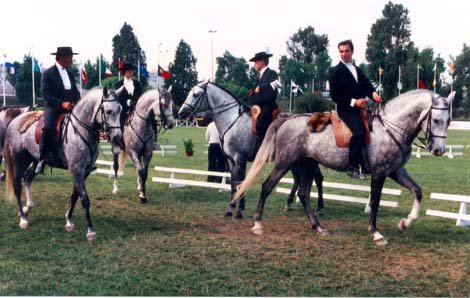 A Stud Farm breeding the magnificent Lusitano, the National horse of Portugal,
by the banks of River Tagus
The Stud Farm is situated on the right bank of the River Tagus on the alluvian plain of Quinta das Arribas and the Tapada dos Choupos, properties that belonged to the owner's great grandfather, Joao Antunes Franco, a farmer and great enthusiast for bullfighting who gave Abrantes its 3,500 seat arena.
Mares
The Stud Farm was set up in 1981 but really expanded in the following years with the purchase of superb breeding mares which are from de pedigree stock of, Duarte Oliveira and Couto Fornilhos and predominantly mares from the Andrade pedigree.
In order to continue this line we have at our disposal more than 50 mares; all of them daughters of the Andrade's pedigree stallions ZEUS, G'-G', JUNCO-CHINES, JABEQUE and LAVERCO.