The pages with horses for sale in english is not updated at the moment.
So please take a look at the danish version and let me know what horses you want to know more about.
Then I send you the descibtion in english.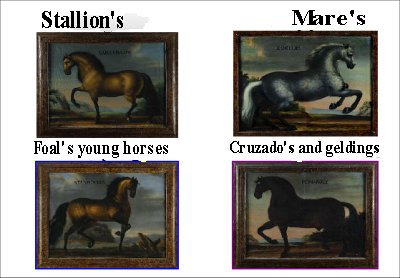 Click on the pictures to go to the catagory!
I represent Rex & Lee Henry and a lot of Lusitano breeders and stables on the internet, with my homepage www.lusitano.dk
I have no horses for sale my self. I'm your contact in Denmark between buyers and thoose who are selling Lusitano horses.
I have had this homepage for 10 years or more, and I have over the time gotten a lot of contacts, both buyers and those who want to sell Lusitano horses.
I want to expand my homepage by adding more Lusitano horses for sale, to include Portuguese riding equipment and promote riding tours in Portugal with riding on Lusitano horses.
Coming soon!!!!!!!
If you want to find the right Lusitano for you, you can send me an e-mail with your wishes and budget.
If you want your Lusitano or cruzado for sale her, send me an e-mail with pedigree, pictures and information on the horse. - Obrigada!