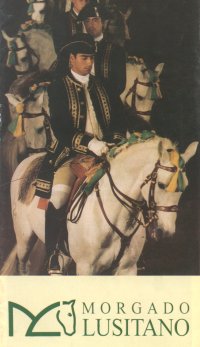 Equestrian shows
dressage training at all levels
Horse training
Traditional equestrian shows, in the show presented by Equestrian Centre Morgado Lusitano the figures represent the purest Portuguese renaissance tradition. The costumes and saddles, are faithful reproductions of the ones used in portugal in the XVIIIth century.

Dressage training (schooling) for horses and rider from beginner to advanced level.
Traditional equestrian shows
Excellent restuarant overlooking olympic size outdoor arena.
Lodging for student riders.
Clinics outside portugal can be arranged upon request.
Nuno Palma is the technical director.
Nuno started riding with Mestre Luis Valanca and took lessons with mestre Nuno Oliveira.
Later he was a rider with the Portuguese School of Equestrian Art. Nuno has also gone to Germany to take lessons with german dressage trainers.
Other professionals at the center are: Helder Carvalho (was the rider of Jerezano), Rodrigo da C. Matos (the rider of Leon) is also a rider at the Portuguese School of Equestrian Art, Janette (from Austria, is the rider of Xiwara in the shows) and Tiago.

The facility are an large indoor manege and olympic size outdoor arena - both with very good foothing or surface.
The staff at the center take excellent care of the horses and Nuno emphasizes a good foundation for young horses and riders.

You find Morgado Lusitano, not far from Lissbon. Close to the river Téjo estuary - 15 mins. from Lisbon airport on northbound (Porto) motorway-exit Povoa de Santa Iria.